About
I studied mainly in organic chemistry and computational/theoretical chemistry, but am now a COBOL developer in northern France. I have long standing interests in psychology, epistemology, mathematics, protochemistry and most other things. I like to read SF&F and French late 20th century literature.
Also I'm a nerd, apparently: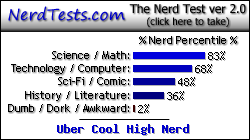 This user doesn't have any gold badges yet.